BDSM - Masked Ball
Saturday, January 05, 2019 -
07:30pm -

BDSM Parties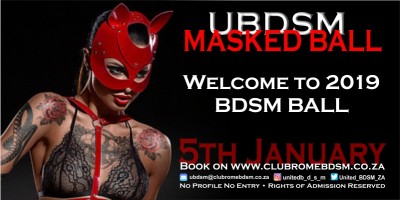 Please note this is NOT a swingers party. The club is converted into a full BDSM play area. No bookings are done on this site.
You need to be registered at: www.clubromebdsm.co.za

PRIZE FOR BEST DRESSED so dress up!!

TIME: Doors open 7:30pm. Doors will close 10:30pm - No entry after that. Newbie Intro 8:15pm SHARP

Dress Code: Steampunk, corsets, black, leather, black, red and/or Fetish (STRICTLY NO STREETWEAR)

Entrance:
R300 per person when registered on www.clubromebdsm.co.za
R350 if you forget to register. (Have to have profile)
this includes FULL BUFFET MEAL, Open Bar, Usage of BDSM Furniture, jacuzzi, heated pool and much more
(TOWELS and LOCKERS separate)

Show Grounds: 62 Rowles Road, Farmall Ext 1, Randburg North, Gauteng -(white wall on right hand side, entrance 2nd black gate)

Opening Plays Happening!!

KINX will be selling all weird and wonderful stuff www.kinx.co.za


NO PROFILE NO ENTRY
Please Note: It is the requirement of the premises management that every person has a registered profile on www.clubromebdsm.co.za.

It is for legal reasons as well as the protection and confidentiality of all members and the club premises..

Rights of Admission Reserved. No under 18 year olds.
Rights of Admission Reserved

Regret No Credit Card Facility