Band Night with Frontline
Saturday, December 08, 2018 -
07:30pm -

Swingers Parties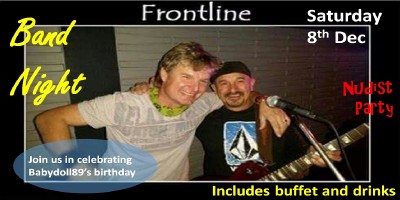 Frontline is back for another awesome night of live music.

ROMANS PLEASE NOTE - This is a NUDIST PARTY. At 10pm all clothes off. Wearing of towels or Lingerie is fine but NOTHING ELSE please. Drinks will not be served to anyone fully dressed or not in towels/lingerie - this always used to be the format of this party and we are bringing it back fully (we loosen up for winter cold).
THIS IS A VERFIFICATION PARTY.
General rules and conditions of parties available here. Please familiarise yourself with them.
Donation includes ALL OF THE FOLLOWING!: Full access to all play areas, pools, jacuzzi, rooms as well as a full buffet meal and all available bar drinks and DJ's. On selected nights a saucy show! . Let's not forget all the wicked and awesome Roman members that may be there that night (well it doesn't make THEM available! - but they'll be there!)

Sleep Overs permitted!

No better value for money swingers party (or any party for that matter) in the country!
Comments from our members:
"Thank you all for making another band night amazing.... atmosphere and peeps were awesome and the band was absolutely fantastic...."
"Definately a band night for the books!! Besides the band being as great as usual, it was the Roman citizens that made the party great. Have not been to such a sexually charged party in a while. Hope everyone had as much fun as we did and thanks to management and staff for giving us a place where we feel embraced."

Discounts - If you have booked online on the CLUB ROME website BEFORE 12 midnight on Friday before the party:
Couples - R- 600
Single Guys - R- 400
Single Ladies - R- 200

If you HAVE NOT booked online or unable to book online or HAVE NOT booked by 12 midnight Friday before the party:
Couples - R- 700
Single Guys - R- 450
Single Ladies - R- 250


E&OE