UBDSM -
Saturday, December 05, 2020 -
07:30pm -

BDSM Parties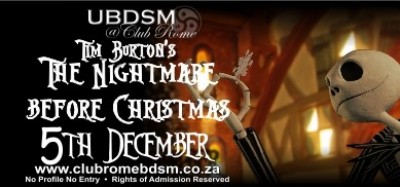 BOOKINGS ONLY AT WWW.CLUBROMEBDSM.CO.ZA - YOU CANNOT BOOK HERE!
GATHERING TIME: Doors open 7:30pm sharp-Doors will close 10:30pm Sharp -
No entry after that. Newbie Intro 8:15pm SHARP
Dress Code: Leathers, Black, Biker, Prospect, Captain, Jean, Metal Shirt.
Entrance: R300 per person when registered on www.clubromebdsm.co.za
R350 if you forget to register. (Have to have profile)
this includes FULL BUFFET MEAL, Open Bar, Usage of
BDSM Furniture, jacuzzi, heated pool and much more (TOWELS and LOCKERS separate)
Party Address: 62 Rowles Road, Farmall Ext 1, Randburg North,
Gauteng -(white wall on right
hand side, entrance 2nd black gate)
NO PROFILE NO ENTRY
Please Note: It is the requirement of the premises management that every person has
a registered profile on www.clubromebdsm.co.za.
It is for legal reasons as well as the protection and confidentiality of all members and
the club premises..
Rights of Admission Reserved. No under 18 year olds.
Regret No Credit Card Facility