Roman House Party Only R350
Saturday, February 29, 2020 -
07:30pm -

Swingers Parties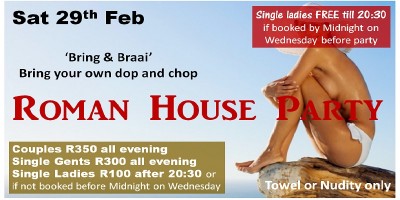 Different from all the others folks!! PLEASE NOTE!!!!
Entrance fee - R350 per couple
Single Gents - R300
Single ladies - FREE till 20:30 if Booked before Midnight on Wednesday, R100 after 20:30 or if not booked before Midnight on Wednesday
(you must be listed on the site as a single lady!! This is by OUR clock, not yours! Be early ladies!!)
NO DRINKS OR FOOD WILL BE AVAILABLE AT THE CLUB!! PLEASE BRING YOUR OWN FOOD AND DRINKS. WE ARE NOT SUPPLYING ALCOHOL OR FOOD - HENCE THE AWESOME PRICE!!
Ice, Glasses and some soft drinks will be avialable
!!!!!TOWELS AND NUDITY ONLY!!!!!
HOUSE PARTY REFERS TO STYLE OF PARTY.. NOT house music!
NO EARLY BIRD DISCOUNTS - THIS IS A FIXED PRICE PARTY BOOKED OR UN-BOOKED!
Booking will help your friends know where you are!
THIS IS A VERIFICATION PARTY.
General rules and conditions of parties available here. Please familiarise yourself with them.
Sleep Overs permitted!

Comments from our members:

"Wow our first and definitely not our last house party it was awesomeThanks to Jaco and the rest of the staff for a wonderful evening and also a big thanks to the dj that played such great music - SatinBlade"
"Wow what a House Party we had last Saturday
It was not a busy party like a ULP but what a party,
I was on my way to the bathrooms and something in my head just said look to your right and wow it was a first for me seeing so many Sexy Romans in the Voyeurs Room. Romans in the Jacuzzi on the mattresses just bodies all over having fun.
Thank you to all Romans that played in the Voyeurs Room last Saturday night it was a Super Sexy awesome show and i hope that all of you return this Friday for ULP.
Honeybirds"

E&OE