DTF Openlove Conference Meeting
Wednesday, August 05, 2020 -
11:00am -

Daytime Fun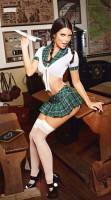 It used to be one of the most fun and popular parts of the week and there wasn't any messing around at this parties....... or at least that is how it used to be before Corona and lockdown.
We are not sure when we can open and have crazy naughty fun like we used to but until then we will open the doors to have an Open Love Conference Meeting foropenminded lifestylers.
We will implement and put safety measures in place at the club to adhere to the Covid rules and regulations.
To protect the staff, owners and members attending will implement the following:
No walk-ins will be allowed, members need to book online in order to attend the Conference Meeting.
Limited seating - max 50 members allowed.
All members will be screened at the door i.e. hands will be sanitized, temperature will be measured and members to complete a health and safety checklist.
Staff, owners and members to adhere to the social distancing rules as set by the Government.
No food or drinks will be served, members must bring own snacks and drinks.
Hand sanitiser and hand soaps will be available in the club.
Full facilities open, all the play rooms, pools, Jacuzzi etc
General rules and conditions of parties available here. Please familiarise yourself with them.

Couples - R350
Single Guys - R200
Single Ladies - R150
No verifications are done at DTF Conference Meetings and should you wish to attend evening Conference Meetings. Introductions are ONLY done at night Conference Meetings.

Right of Admission Reserved / E&OE