Public Holiday DTF Bring & Braai
Tuesday, August 09, 2022 -
11:00am -

Daytime Fun, Swingers Parties, Special Events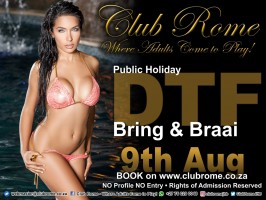 PUBLIC HOLIDAY Day Time Fun Braaiday - (BRING AND BRAAI)
One of the most fun and popular parts of the week and there isn't any messing around at this party... peeps know why are there and that's what they do...make friends... and friends with benefits! Be prepared for the most fun of your life!!
General rules and conditions of parties available here. Please familiarise yourself with them.
Entrance Donation Booked on Site
If you have booked online on the CLUB ROME website BEFORE 12 midnight before the party:
Couples – R350
Single Guys – R250
Single Ladies – R100
Entrance Donation Not Booked/First Time Attending
If you HAVE NOT booked online or unable to book online or HAVE NOT booked by 12 midnight before the party:
Couples – R500
Single Guys – R300
Single Ladies – R200
Donation includes ALL OF THE FOLLOWING: Full access to play areas, pools, rooms . ITS IS A BRING AND BRAAI NO FOOD OR DRINKS AVAILABLE
Let's not forget all the wicked and awesome Roman members that may be there (well it doesn't make THEM available! - but they'll be there!)


We open the doors at 11am and close late depending on members at the Braaiday
Sleep Overs is NOT permitted for DTF Parties.


No better value for money swingers' party/function (or any party/function for that matter) in the country!
If the bookings are full and you whish to be added to the waiting list please contact us via whatsapp on the club phone, new members that whist to attend that cant book can contact us via whatsapp on the club phone and we will book your slot.
Club Rome whatsapp 0760200048
THIS IS A NOT A VERIFICATION PARTY.
To extend web access for a night profile you will have to attend a Friday or Saturday Night party