KinX Night
Saturday, September 18, 2021 -
06:30pm -

Swingers Parties, Special Events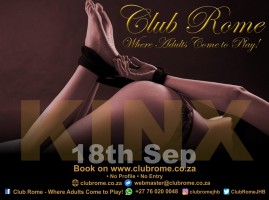 KinX Night ..... that says it all
It is almost time again for another integrated fun evening where swingers and kinksters can enjoy a safe environment to enjoy and live out fantasies.
Join us for an evening of good partying and a bit of kinky and sensual yumminess that promises to delight and intrigue both worlds.
The evening will be hosted by Romans and promises to have some surprises to delight even more than our previous events.
Special rules for all attendees:
•

No corporal punishments, light spanking encouraged but any hard spanking is reserved for dungeon and room next to the dungeon
•

Light flogging is allowed in public areas
•

Don't interrupt plays or demos, as it distracts the submissive from enjoying the experience
•

All members to be respectful and mindful, no exceptions and no excuses
•

No extreme play in public areas, the evening is about sensuality and all extreme play is reserved for rooms only
Volunteers are always welcomed to assist with setting up and assisting with cleaning of the venue throughout the evening.
Please reach out to us if you would like to volunteer.
Potential demos and shows can be arranged by contacting us, this just helps us allocate time for your demo in the shows program. We have open slots and would love to enjoy your demo at this event.
We do not require dungeon masters for this event as the hosts will assume the roles in ensuring all plays, demos and shows are monitored for safety and the rule of consent is enforced.
We will implement and put safety measures in place at the Club to adhere to the Covid rules and regulations.
To protect the staff, owners and members attending will implement the following:
Limited members allowed - max 250 members allowed.

All members will be screened at the door i.e. hands will be sanitized, temperature will be measured and members to complete a health and safety checklist.

Staff, owners and members to adhere to the social distancing rules as set by the Government.

Hand sanitiser and hand soaps will be available in the club.

Members to bring own mask.
General rules and conditions of parties available here. Please familiarise yourself with them.
Entrance Donation Booked on Site
If you have booked online on the CLUB ROME website BEFORE 12 midday before the party:
Couples – R700
Single Guys – R500
Single Ladies – R250
Entrance Donation not Booked/First Time Attending
If you HAVE NOT booked online or unable to book online or HAVE NOT booked by 12 midday before the party:
Couples – R800
Single Guys – R600
Single Ladies – R350
Donation includes ALL OF THE FOLLOWING: Full access to play areas, pools, rooms as well as a meal and all available bar drinks and DJ's.
Let's not forget all the wicked and awesome Roman members that may be there that night (well it doesn't make THEM available! - but they'll be there!)


We open the doors at 6:30 pm, Close the bar at 1am and Sleep Overs only is permitted from 1am, no need to book or pay for a room


No better value for money swingers party/function (or any party/function for that matter) in the country!
If the bookings are full and you whish to be added to the waiting list please contact us via whatsapp on the club phone, new members that whish to attend that cant book, can contact us via whatsapp on the club phone and we will book your slot.
Club Rome whatsapp 0760200048
Dress Code: Gents - NO SHORTS, SLOPS, SANDALS, TRACKSUITS (Unless suited to theme). Smart casual, Jeans, T Shirts (provided not sloppy), closed shoes accepted

Ladies - NO TRACKSUITS (unless suited to theme). Smart casual, shorts, theme dress all accepted provided not sloppy appearance.

Club Rome reserves to right to turn away any person not dressed to a fair standard on arrival. DRESS CODE WILL BE STRICTLY ENFORCED
THIS IS A VERIFICATION PARTY.